Use coupon code INFORMANT to save 10%
Overview of RAW Nutrition Intra-Workout
From the minds behind Revive MD comes RAW Nutrition. RAW Nutrition is a solid formulated brand designed for the highest of performers. Their formulations contain proven ingredients at proper dosages designed to take your workouts and status to the next level.
RAW Nutrition Intra-Workout is a solid, comprehensive intra-workout designed to improve blood flow, hydration and muscle recovery. With The 25g of HBCD will provide fuel to the muscles to help you work through the hardest sets while contributing to your overall pump and subsequently to muscle recovery. This is one of the best intra-workout formulas on the market today.
Why You Should Trust Our Reviews
EXPERT REVIEW PANEL
Our review panel is made up of individuals with many years of experience in the sports nutrition industry, dating back to the early 2000's. Their tenure gives them knowledge on brands, supplements, ingredients, dosages and more.
FULL CONTAINER REVIEWS
Unlike the majority of "review" sites on the internet, Fitness Informant reviews every supplement on a full-container basis. What does this mean? It means that a review is not written or recorded until the last serving of that product has been finished. We've all had products that were great for the first couple of days, but then lost their effectiveness shortly after. We want to ensure you are getting a full review based on a full product.
INGREDIENT EDUCATION
We breakdown each ingredient in our reviews to educate you on exactly what the ingredients do, and what is the proper dosage of each ingredient to effectively do what they are intended to do.
100% HONEST – NO B.S. REVIEWS
Our number #1 priority is to inform you proper supplement selection through honest reviews. The majority of "review" sites on the internet will push you to buy a certain product based on the commissions they received. Not us. We want you to purchase the highest quality supplements at the best value. We put your health and wellness first. To achieve your goals we want you to use only the best supplements that you can afford. We do this by being honest.
Testing Results and Ratings
We reviewed RAW Nutrition Intra-Workout on five categories. We first start by looking at its ingredient profile. This portion of the review looks at the different ingredients used in this muscle recovery supplement, what their intention is and how effectively dosed are each ingredient.
We then look at effectiveness. An effective muscle recovery product will use high quality, proven ingredients, at clinically backed dosages. This is generally an extension of the profile section. The higher quality ingredients used at proper dosages, the more effective that amino product will be.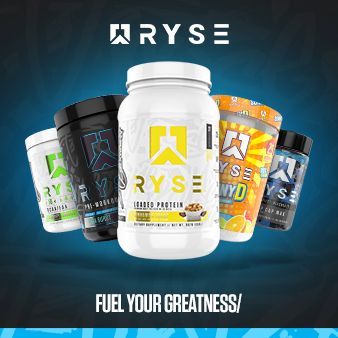 Then we move into the taste of the different flavors we've tried. We grade each flavor separately and average the scores for their overall taste rating. We were able to test out the following flavors: Tropical Punch and Lemon Lime.
Mixability refers to how well the powder mixes in 12-16 oz of water. We use the shaker bottle test. This would be your official Fitness Informant Cyclone Cup.
Finally, we talk about value. Value is the combination of profile, effectiveness, taste and mixability in relation to cost. Another part of value are the competitors and other versions of muscle recovery products on the market.
---
Ingredients Profile
(9.5/10)
Let's be real, a lot of the intra-workouts now days are just EAA or BCAA. A true, beneficial intra-workout should contain ingredients that aid in contributing to energy output and muscle recovery. Intra-Workout from RAW Nutrition doesn't give us any EAAs, they have another product for that. Intra-Workout was designed to truly help elevate your performance in the gym. We are going to look at the 2-scoop or 20-serving dosages.
We start with a solid 25g of Highly Branched Cluster Dextrin. This is one of our favorite carb sources here at FI. You do not typically get the stomach discomfort you get with some of the cheaper carbs. You also don't get that insulin spike and subsequent crash that you get from a simple sugar source like gummy bears. Cluster Dextrin gives us more of a "sustained" energy release unlike other forms of carbs. At 25g this is solid intra-workout, especially if you're taking carbs pre-workout as well.
D-Ribose, an ingredient gaining popularity in the intra-workout world is used at 2g. D-Ribose is a great ingredient naturally occurring monosaccharide found in the cells and particularly in the mitochondria is essential in energy production. In a simpler way, it helps with ATP production. D-Ribose as a stand-alone supplement can be dosed up to 5g per day (recommended), however at 2g in an intra-workout it is pretty solid.
Coconut Water Powder, which aids in overall hydration, is dosed at 1g. This is a good dosage of this ingredient as this is the level we typically see and expect.
Betaine Anhydrous, a common ingredient found in pre-workouts and some post-workout formulas, is found here at 1g. Betaine Anhydrous can aid with strength and power output. In a pre-workout we want this between 1.5-2.5g, so to get 1g in an intra-workout is a respectable amount.
Himalayan Pink Salt, something we are fans of here at FI, is dosed at 500mg. This aids in hydration and can contribute with the pump. There are people against salt pre/intra-workout, but we are fans of it. At 500mg it gives us a nice kick. We would recommend getting 1-2g in before and during your workout. With that said, RAW Nutrition Pump has 1.5g so that would be a total of 2g with the system.
Grape Seed Extract is dosed at 250mg. We commonly find this ingredient used for increasing blood flow. The more blood flow to your muscles brining in nutrient rich blood means the more endurance the muscles will have to go to failure or to do working sets during your workout. We like the dosage between 150-300mg. We are good with this.
The last ingredient is ALA or Alpha Lipoic Acid at 200mg. This is a common ingredient found in GDAs (glucose disposal agents). This is a great addition to go along with the 25g carbs to ensure they are being used. We would like to see it around 300mg in total, but 200mg is acceptable.
Overall, this is a cool intra-workout that leverages carbs, D-Ribose and ALA to ensure energy is being produced by the body during your workout to get you to go longer. Increased blood flow will aid in your overall pumps and muscle recovery. We like what we see here. 
---
Effectiveness
Honestly, we really enjoyed RAW Nutrition Intra-Workout. The best part of the carb source, HBCD, is it doesn't sit in the stomach and cause bloating. You also don't experience that let down or crash like you would with some carb sources. You will experience fuller pumps with this supplement too. Anytime you add carbs intra-workout you should have a better workout experience, and you do. You find yourself doing that one extra set or a couple extra reps to failure.
We would recommend the two servings (20-servings) dosage to get the best results from this product as we believe the 25g carbs are ideal for anyone who is serious about the workout.
Things you can expect, as we mentioned already, longer, more effective workouts, better pumps and better hydration levels.
---
Taste
Tropical Punch: (8.9/10)
Lemon Lime: (9.2/10)
The two flavors we got to try were Tropical Pump and Lemon Lime. Honestly, they were both great. What is nice about HBCD and D-Ribose is they are inherently sweet. That means flavoring the supplements should be easy.
Tropical Punch does not taste like your typical fruit punch, which is a good thing. It tastes more…tropical. It seems that there is more citrus tones to this that the traditional fruit tree given to us with every other fruit punch on the planet. This was refreshing and enjoyable.
Lemon Lime was great. It was on-point in terms of what you would expect from a Lemon Lime flavor. You get that little bit of bite/tartness that you get with some citrus flavors. This is what we enjoy in these types of flavors.
Overall, you can't go wrong with either flavor. They were both refreshing and enjoyable. 
---
Mixability
With the two scoop serving size you're looking at 33g. The nice part of HBCD is it is fully soluble in water. You do not get clumping that you might expect. When using a full shaker of water, which is recommended, you get a nice mixture with only slight particles.
To view our mixability test, watch the video above featuring the official FI Ice Shaker Cup.
---
Value
This is a GREAT product. Let us start there. It can be a 40-serving but we recommend the double scoop taking it to 20-servings. This retails at RAW's website for $61.99. That is a hefty price tag. Why? Well, for starters, using HBCD is going to be more expensive as it is one of the best carb sources on the planet. Also, a dose of 2g D-Ribose also contributes to you overall cost of this product. Some carb-only formulas cost more than this, so it is not out of line. With coupon code INFORMANT you can knock off 10% brining this into the $50s. For the casual lifter this is going to be too much. Just being honest here. However, if you are an intense lifter and looking to gain an advantage where you can, an investment of $50+ for a quality intra-workout with quality carb source is worth it.
The question is are your serious about your lifting sessions? If so, then this is something you should really look into.
Available at these Fitness Informant Approved Retailers
FITNESS INFORMANT'S EXCLUSIVE DEALS

Save 10% with coupon code INFORMANT
FITNESS INFORMANT'S EXCLUSIVE DEALS
$61.99
Save 10% with coupon code INFORMANT