Overview of Olympus Lyfestyle Grind Energy
Grind Energy is a solid nootropic that delivers on energy, focus, and alertness. With a solid dose of NooLVL, and a strong dose of Caffeine, it is a solid choice for Gamers who are not noobs to the popular stimulant. It is a nice choice for getting your day started, or simply being productive at work.
It also comes in some solid flavors despite hints of bitterness, and we thoroughly enjoyed our experience with the Cappuccino flavor. While the energy may be too much for some people who are stim sensitive, to those who are experienced stim-users, this can certainly be a solid option for that purpose.
Why You Should Trust Our Reviews
EXPERT REVIEW PANEL
Our review panel is made up of individuals with many years of experience in the sports nutrition industry, dating back to the early 2000's. Their tenure gives them knowledge on brands, supplements, ingredients, dosages and more.
FULL CONTAINER REVIEWS
Unlike the majority of "review" sites on the internet, Fitness Informant reviews every supplement on a full-container basis. What does this mean? It means that a review is not written or recorded until the last serving of that product has been finished. We've all had products that were great for the first couple of days, but then lost their effectiveness shortly after. We want to ensure you are getting a full review based on a full product.
INGREDIENT EDUCATION
We breakdown each ingredient in our reviews to educate you on exactly what the ingredients do, and what is the proper dosage of each ingredient to effectively do what they are intended to do.
100% HONEST – NO B.S. REVIEWS
Our number #1 priority is to inform you proper supplement selection through honest reviews. The majority of "review" sites on the internet will push you to buy a certain product based on the commissions they received. Not us. We want you to purchase the highest quality supplements at the best value. We put your health and wellness first. To achieve your goals we want you to use only the best supplements that you can afford. We do this by being honest.
Thrive Leads Shortcode could not be rendered, please check it in Thrive Leads Section!
Testing Results and Ratings
We reviewed Olympus Lyfestyle Grind Energy on five categories. We first start by looking at its ingredient profile. This portion of the review looks at the different ingredients used in the nootropic, what their intention is and how effectively dosed are each ingredient.
We then look at effectiveness. An effective nootropic product will use high quality, proven ingredients, at clinically backed dosages. This is generally an extension of the profile section. The higher quality ingredients used at proper dosages, the more effective that nootropic will be.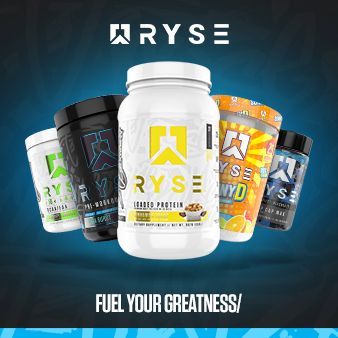 Then we move into the taste of the different flavors we've tried. We grade each flavor separately and average the scores for their overall taste rating. We were able to test out the following flavors: Lemonade, Mystery Flavor, Cappuccino
Mixability refers to how well the powder mixes in 6-8oz of water. We use the shaker bottle test. We use the Official Shaker Cup of Fitness Informant, the Ice Shaker.
Finally, we talk about value. Value is the combination of profile, effectiveness, taste and mixability in relation to cost. Another part of value are the competitors and other versions of nootropic products on the market.
---
Ingredients Profile
To start, we are going by the 2 scoops servings size, as this is how most of you guys will use it. The first ingredient in Grind Energy is Glycine, which is an amino acid. You see this in sleep aids quite a bit, and that is because it is an inhibitory neurotransmitter. At 2 grams, you are getting a solid dose in Grind. The next ingredient is one of our favorites here on FI. NooLVL is an ingredient from Nutrition21, and it has been studied on Gamers. It has shown to be beneficial for staying alert for long periods of time. At 1.6 grams, you are getting the clinical dose.
Next we have Taurine at 1 gram. Taurine has a lot of benefits, including muscle-nerve function, as well as hydration and blood flow. At 1 gram, you are getting a solid dose. Following this you get 750mg of Acetyl-L-Carnitine. ALCAR is one of our favorite forms of Carnitine, and it is common in Nootropics, as it can help with focus. It crosses the blood brain barrier well, especially when compared to regular L-Carnitine. You get 750mg of it in here, enough to get some benefits, however we would prefer to see a little more.
Next up we have a Virtiva® Blend, which is a trademarked blend of Gingko and Phosphatidylserine. Gingko is a very popular nootropic and has solid research behind it, and PS can be beneficial for cortisol as well. You are getting the recommended dose of Virtiva in Grind Energy. Following this you get 300mg of Caffeine. This is a bit more than your typical Nootropic, however with everybody's stim tolerance being up these days it may be a smart way to go about it. Either way, 300mg is what you'd expect in a pre-workout, which can be used for as well. 
Next we have Dynamine, which is an ingredient from Compound Solutions. It is similar to TeaCrine, and provides smooth non-jittery energy. However it hits you quickly and for workouts really puts you in tune with your body. At 104mg of total Dynamine per serving, you are getting a solid dose in here. 
The last two ingredients are Citicholine at 250mg, and Huperzine A at 200mcg. Citicholine is a source of choline with a high bioavailability when compared to Choline Bitartrate. It converts to Acetylcholine in the brain, with a neurotransmitter. To put it simply, it can help with focus, and at 250mg, it dosed well in Grind. As for Huperzine, it prevents choline from being broken down in the brain to put it simply, and at 200mcg, is dosed well in Grind.
---
Effectiveness
Well with such a profile, it is bound to work well. Grind Energy provides a solid boost in energy, and can actually be quite strong. However there are no real jitters to speak of which we assume is due to the Glycine. So the energy may be a bit on the stronger side for people who are sitting around playing video games or working, however we enjoyed the energy due to our high stim-tolerances here on FI.
The energy is long lasting and we even tried this product out pre-workout. The NooLVL, while typically thought of as a gaming ingredient, actually helps with pumps as it is very similar to Nitrosigine, a common pump ingredient. 
Since we have a certain gamer here on FI, he tested it out and he enjoyed his experience with it. He noticed long periods of simply being on point as he played video games at night and it became something he enjoyed a couple of times per week. While not the best for that aspect due to the high Caffeine, it still delivers. 
Overall, the effectiveness is there, and although it looks overpowering with the high Caffeine dose, you can always take 1 scoop to tone it down a bit. It simply works well, and we enjoyed it.
---
Taste
Cappuccino: (9.2/10)
Lemonade: (8.2/10)
Myserty Flavor: (7.8/10)
So we had three flavors to try here on FI. Cappuccino, Mystery Flavor, and Lemonade. The Cappuccino is easily the most enjoyable one, as it tastes like a Frappuccino from Starbucks to some extent. It's a unique flavor that they nailed!
As for the Mystery Flavor, while it is not bad, it certainly is a mystery. It has some sort of resemblance to a candy we can't put our finger on, however there is a slight bitter taste to it in the background. While not horrible, it is not our first choice, and you kind of have to be in the mood for it. The Lemonade is a nice flavor as well and is true to name, however it also has a very slight bitterness to it at 2 scoops. Still refreshing and mostly enjoyable, and is probably the safest flavor to go with.
---
Mixability
Grind mixes quite well overall and there is little to complain about. Slight foaming that goes away, and there is sediment that floats around, however you will not notice any of it. There is no real sediment to speak of, so that's nice.
We used the Official Shaker Cup of Fitness Informant, The Ice Shaker.
Check out the video above for a full mixability test.
---
Value
You can get Grind for $45 per tub directly from their website. While this is a solid product, using it at 2 scoops each time may cost a bit. At 2 scoops, you are looking at $3. This is a bit of a loaded product, so you are getting what you pay for.
Available at these Fitness Informant Approved Retailers