RYSE is launching a new pre-workout called Stim Daddy. It will be Noel Deyzel's third installment of his signature series on the RYSE Supplement line. Stim Daddy will be a high-stim pre-workout with many ingredients that we love.
RYSE Stim Daddy Supplement Facts
RYSE is raising the bar with their upcoming Stim Daddy pre-workout supplement. The new Stim Daddy will be the highest stim pre-workout the brand has launched since it's inception.
The formula is broken down into a one scoop/two scoop serving size. For the purpose of this article we are going to look at the 2-scoop serving size (20-servings).
The formula starts with a mega dose of Beta Alanine at 6.4g.We've seen several companies go higher on Beta Alanine in the past few years. Research does back a 3.2g-6.4g serving size. Beta Alanine aids in muscular endurance.
Citrulline, a common ingredient for blood flow, is dosed at 6g. Citrulline is a precursor to arginine in the body which increases nitric oxide. This, in turn, increases blood flow.
Betaine Anhydrous is dosed at 4g. This helps with strength and power output. We typically see this at 2-2.5g, so a 4g dosage is a mega dosage.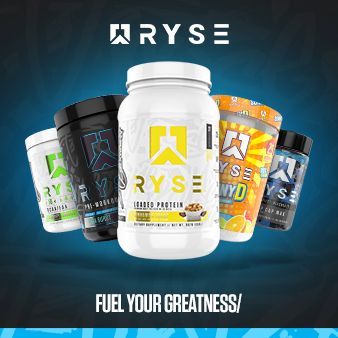 Tyrosine is a cognitive improvement ingredient that continues to gain popularity. Stim Daddy features 4g of Tyrosine. This will help improve your mind/muscle connection and aid in more focus during workouts.
Cognizin, a branded version of Citicoline, is dosed at 500mg. Research shows that at either 250mg or 500mg per day of Cognizin, users experienced elevated brain activity, more focus and better attention.
Caffeine is dosed at 400mg. This is a high amount of caffeine but the same as some other RYSE pre-workouts. 
Theanine comes in at 150mg. This is a solid amount of Theanine that may help counteract the jitters users get from the 400mg caffeine.  Theanine is more of a mood elevating and calming ingredient.
Dynamine, a branded ingredient from Compound Solutions, is dosed at a respectable dosage of 125mg. This yeilds 40% active Dynamine which means users are getting 50mg of active Dynamine which is a great dosage. This is similar to caffeine in which it can help elevate mood and energy, but it doesn't crash off like caffeine may do. In fact, it actually helps prolong energy levels.
Theobrome is used at 100mg. This is a common dosage of Theobromine. Theobromine is a metabolite of caffeine. This can help elevate energy levels as well as increase body temperature.
Astragin from Nuliv is dosed at the clinically accepted dosage of 50mg to help increase absorption. 
Lastly, 2mg of Alpha Yohimbine, the strongest form of Yohimbine, is used. Some users can experience rapid heart beat and anxiety from Yohimbine so it is best to start with one scoop to assess tolerance.
RYSE Stim Daddy will launch on September 15th. Subscribe below for updates on actual launch and a coupon code to save you real money.
Final Takeaway
Very loaded and impressive formula from the crew at RYSE. This will launch as one of the best high-stim pre-workouts out there. We will give you our feedback as soon as we get our hands on it! Overall, very impressed with the label.
Recent RYSE News and Reviews