Use coupon code INFORMANT to save 15%!
Overview of Build Fast Formula FullBlitz
Build Fast Formula is a small company with only a couple products, but what they do make works very well. They are the markers of our 2018 Pump Product of the Year in VasoBlitz. Now they have added stims and came out with FullBlitz.
FullBlitz is the same profile as VasoBlitz, but contains added Beta-Alanine, Caffeine DMAE and Yohimbe. Although stims can compete with the pump, it is apparent in FullBlitz you're getting the best of both worlds. FullBlitz provides solid energy, great focus and epic pumps.
Why You Should Trust Our Reviews
EXPERT REVIEW PANEL
Our review panel is made up of individuals with many years of experience in the sports nutrition industry, dating back to the early 2000's. Their tenure gives them knowledge on brands, supplements, ingredients, dosages and more.
FULL CONTAINER REVIEWS
Unlike the majority of "review" sites on the internet, Fitness Informant reviews every supplement on a full-container basis. What does this mean? It means that a review is not written or recorded until the last serving of that product has been finished. We've all had products that were great for the first couple of days, but then lost their effectiveness shortly after. We want to ensure you are getting a full review based on a full product.
INGREDIENT EDUCATION
We breakdown each ingredient in our reviews to educate you on exactly what the ingredients do, and what is the proper dosage of each ingredient to effectively do what they are intended to do.
100% HONEST – NO B.S. REVIEWS
Our number #1 priority is to inform you proper supplement selection through honest reviews. The majority of "review" sites on the internet will push you to buy a certain product based on the commissions they received. Not us. We want you to purchase the highest quality supplements at the best value. We put your health and wellness first. To achieve your goals we want you to use only the best supplements that you can afford. We do this by being honest.
Thrive Leads Shortcode could not be rendered, please check it in Thrive Leads Section!
Testing Results and Ratings
We reviewed Build Fast Formula FullBlitz on five categories. We first start by looking at its ingredient profile. This portion of the review looks at the different ingredients used in the pre-workout supplement, what their intention is and how effectively dosed are each ingredient.
We then look at effectiveness. An effective pre-workout product will use high quality, proven ingredients, at clinically backed dosages. This is generally an extension of the profile section. The higher quality ingredients used at proper dosages, the more effective that pre-workout will be.
Then we move into the taste of the different flavors we've tried. We grade each flavor separately and average the scores for their overall taste rating. We were able to test out the following flavors: Grape, Rainbow Candy and Blue Raspberry.
Mixability refers to how well the powder mixes in 6-8oz of water. We use the shaker bottle test. This would be your typical Blender Bottle with the spiral chrome ball.
Finally, we talk about value. Value is the combination of profile, effectiveness, taste and mixability in relation to cost. Another part of value are the competitors and other versions of pre-workout products on the market.
---
Ingredients Profile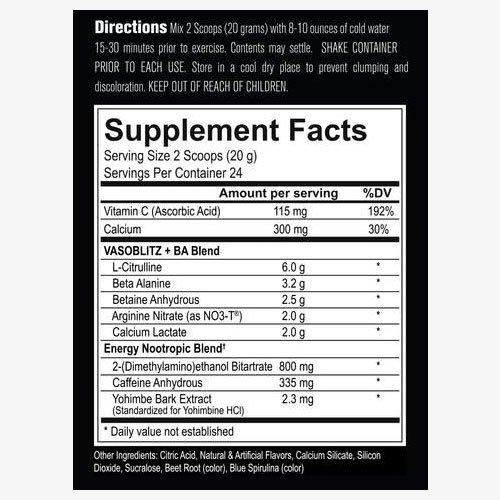 FullBlitz harnesses the power of VasoBlitz (hence the first complex) with the addition of 4 ingredients.
The VasoBlitz complex starts with 6g L-Citrulline, the precursor for Arginine which increases blood flow into the muscles. Next we get Betaine Anhydrous, which is dosed at 2.5g, the top end of the dosage spectrum, responsible for increasing strength and power output. Arginine Nitrate (as NO3-T) is used at 2g, just like VasoBlitz, and increases nitric oxide levels to increase blood flow. Calcium Lactate is used again at 2g. The new ingredient introduced here is 3.2g of Beta-Alanine. This is the clinical dosage that has been shown to improve muscular endurance. 
The Energy Nootropic Blend is also new. We start with 800mg DMAE. This is a MASSIVE dose of DMAE. This is the most I have ever seen. DMAE is responsible for the reduction of the age pigmentation that causes cognitive decline. Next we get 335mg Caffeine Anhydrous. This is obviously your main energy source. Lastly we get 2.3mg of Yohimbe. This is the stim that could constrict blood flow, but without other stims doing the same, we should be fine. Yohimbe can increase your heart rate (it is a stim) but can aid in fat loss too.
Overall, the profile is solid on energy, pump and focus. There could be more strength/power ingredients to make this a well-rounded pre-workout, but for what it is, it is great.
---
Effectiveness
FullBlitz is an effective pre-workout on energy, pumps and focus. With only two stims, Caffeine and Yohimbine, you get great energy that is not overbearing, and more important, not constrictive to blood flow.
The VasoBlitz pump ingredients are all packed in here so your pump is going to be top-notch and literally one of the best you will get in any pre-workout. With 6g L-Citrulline and 2g of Nitrates, you have to get a pump, if not, then something is up.
Lastly, focus is solid. I was skeptical at first on DMAE, but with the dosage at 800mg it was impressive. When combined with Caffeine, you get a very nice, clear focus in the gym.
Overall, based on energy, focus and pumps this is effective. Yes it is missing strength/power ingredients like Taurine, PeakO2 and elevATP but I am not sure it needs it.
---
Taste
Grape Bubblegum: (7/10)
Rainbow Candy: (9.5/10)
Blue Raspberry: (9/10)
We were able to try three different flavors. Rainbow Candy and Blue Raspberry are two flavors carried over from VasoBlitz and are on-point. Rainbow Candy tastes like if you were to take all the skittles from the red bag, put them in your mouth and eat at the same time. Delicious.
Blue Raspberry is your safe flavor. This tastes like you'd expect a Blue Raspberry to taste.
Grape, in our opinion, wasn't as good as the other two. Now, if you like Grape Bubblegum, you will like this. We realize taste is subjective, but this grape wasn't our favorite. If you're a grape fan though, give it a shot.
Overall, solid flavors on a solid pre-workout.
---
Mixability
Two scoops is the serving size of FullBlitz. One serving is 20g. You'd think that it would have slight issues with mixability, and although there are some particles and residue, it could be a lot worse. Overall we were impressed with the mixability of this given the serving size and the water amount per the instructions.
See the mixability video in our video review above.
---
Value
FullBlitz is 24-servings for $39.99…but wait, there's more! With coupon code INFORMANT you save 15% AND you get a 7-day serving of VasoBlitz with this, giving you 31-days of pumps for $34. Even without the VasoBlitz, this is still a solid deal. When most pre-workouts are now going for $2 a serving for an effective pre-workout, we are getting this for far less. This is an affordable pre-workout that has the effectiveness of an expensive pre-workout.
Available at these Fitness Informant Approved Retailers
FITNESS INFORMANT'S EXCLUSIVE DEALS

Save 15% with coupon code INFORMANT
FITNESS INFORMANT'S EXCLUSIVE DEALS
$39.99
Save 15% with coupon code INFORMANT